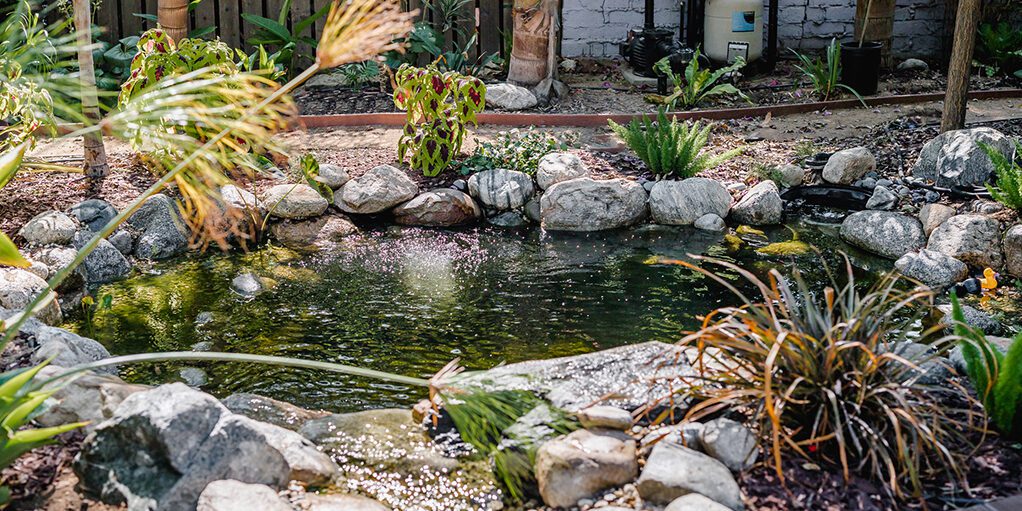 Cement Pond to Natural Pond
The Call:
We received a call in late May 2017 from a homeowner who was concerned her pond was leaking and asked if we could come out and provide some suggestions on how to remedy the leak. I scheduled my next available time with her and gathered my notes. On the phone she told me she had just done a pond rehab and had no idea where it was leaking from. Once I arrived I was surprised to see that it was a brand new cement pond that actually had a lot of time and work put into it, however it was much smaller than I thought. I looked around and checked for any possible places for leaks. I didn't see anything obvious, however I did noticed there was a rubber liner underneath the cement.
Using a rubber liner with an overlay of cement can be tricky. Once completed the water can travel "between" the cement and the liner and leak into the soil undetected. This can also make stopping a leak much harder since you now have hardened concrete to deal with.
After a little bit of investigating, it was determined that So-Cal Ponds would not be able to repair this water feature as is, and a full pond rehab was needed.
The Pond:
The homeowners and I discussed design and filtration options as well as what their expectations would be for their pond. We agreed that a natural pond should be deep enough to prevent predators from getting at the fish, a natural look, a fairly good sized stream and advanced filtration were all at the top of their list. The end result was a 10′ x 12′ x 3′ natural pond with advanced filtration which will consist of an under gravel suction grid, an external pump, skimmer, UV light and plenty of oxygenation. The stream would be 55′ in length and varies from 24″ – 48″ in width with planters along the sides.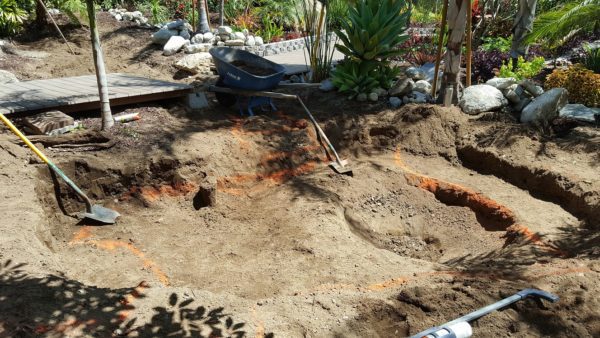 The Construction:
The homeowners had the previous builder demo and remove the pond, which provided us with an open area to begin work. We began excavation of the pond while installing the plumbing and skimmer. The ground was hard and this was not an easy excavation site, but with some sweat, and power tools we got it excavated and shaped to our liking.
Homeowners usually have a hard time seeing the finished project and as we are digging up their backyard, have piles of dirt and miscellaneous plumbing all over the place they tend to get a little uneasy.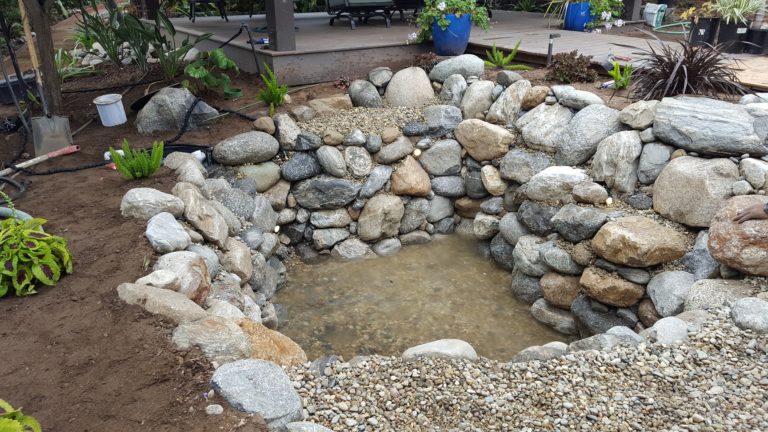 After a few days we begin to tighten the site area up a bit and the pond begins to take shape. As we are placing the stones in the pond we make sure carefully stack them in a way that locks the stones into one another making them secure and stable. We then use pond foam to fill the gaps and lock everything into place.
The bottom portion of the pond is often times the most important as it is considered the foundation of the entire pond. Once we get up to water level we look for specifically shaped rocks with unique coloring.
As a matter of fact we are usually looking for waterfall or stream rocks at the rock supply yard or as soon as we offload them from our trailer and setting them aside for later use. Colorful, uniquely shaped or something out of ordinary is what we look for when placing them around the edge of the pond and waterfall.
Once we feel the rocks are placed and secured in place we begin to fill the pond.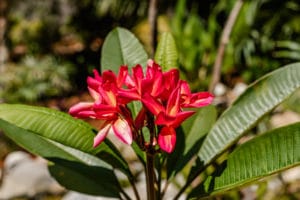 The final step:
As we placed the final stones in their places, we always have to make some minor adjustments. We may want the water to flow a certain direction over the rocks or spillways creating a certain sound or flow pattern. This will add to the overall beauty and sound of the landscape.
It takes 6-10 weeks for the beneficial bacterial to mature and even longer in a pond such as this one. This pond has about 5 times the amount of surface area a similar sized pond would have due to the under gravel suction grid and up-flow bog filtration. This particular pond was ready for fish and plants at the six week mark but took an additional ten months to fully mature. After several weeks this pond was stocked with a few dozen one gallon aquatic plants which will offer additional filtration as well as color and movement to the pond.
At the time this post was written, it has been close to 18 months since this pond has been built. This ponds is now fully mature and home to healthy plants and a few dozen fish.
Newton