Eichhornia crassipes,
Commonly known as common water hyacinth, is an aquatic plant native to the Amazon basin. Water hyacinth are popular, beginner level, easy to care for, floating pond plants! But they're also water purifying and a great solution to green water issues that many pond owners experience!
On the water surface, the water hyacinth have beautiful thick green bulbous leaves which produce attractive flowers in the summer. Underneath the water, these plants have huge black roots. The water hyacinths thick roots can grow in excess of 12″ long. Fish fry and other aquatic life utilize these long roots as habitat. The great thing about these roots is their ability to absorb impurities. They can lock up floating particles from the water, thereby "purifying" the water. Water hyacinths are very useful at competing with algae! Their fast growth rate allows them to quickly shade the water while at the same time absorbing huge amounts of nutrients from the water.
This water plant has many enduring qualities, however the water hyacinth also has some problematic characteristics. For a responsible water gardener, these plants can raise some concerns! The fast growing quality of the water hyacinth is an attractive quality to a new water gardener. But these fast growing plants have the ability to quickly cover the entire surface of your pond, again and again! Water hyacinth are literally the worlds fastest growing water plant!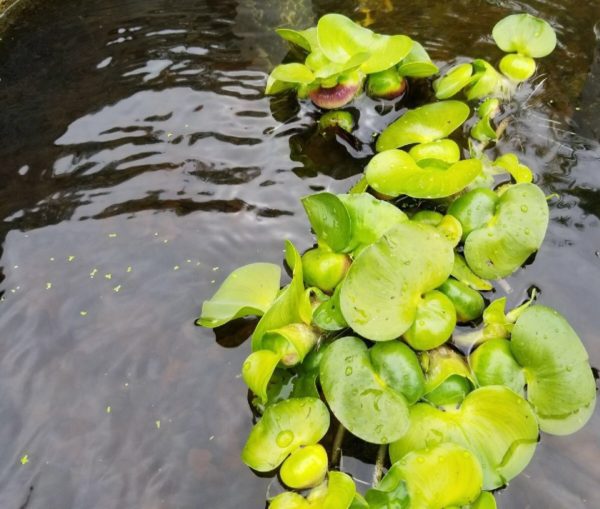 Their amazing purifying roots that can clean your water and get rid of algae can also dirty up your pond by clogging filter pads, blocking skimmers, and increasing maintenance to frustrating levels! To avoid these types of issues it is important to remove any excess or unwanted water hyacinth plants about once a week to control their spread. A water hyacinth doubles its mass every six to 14 days under favorable conditions and will quickly take over your pond if you don't remove unwanted plants.
It is important to understand how the water hyacinth can impact your Koi or water garden. Although, we can agree the water hyacinth may not be the ideal water garden plant, cultivating and managing it correctly can make it a great addition to your pond! There are also some very interesting uses and possibilities for the worlds fastest growing noxious invasive plant!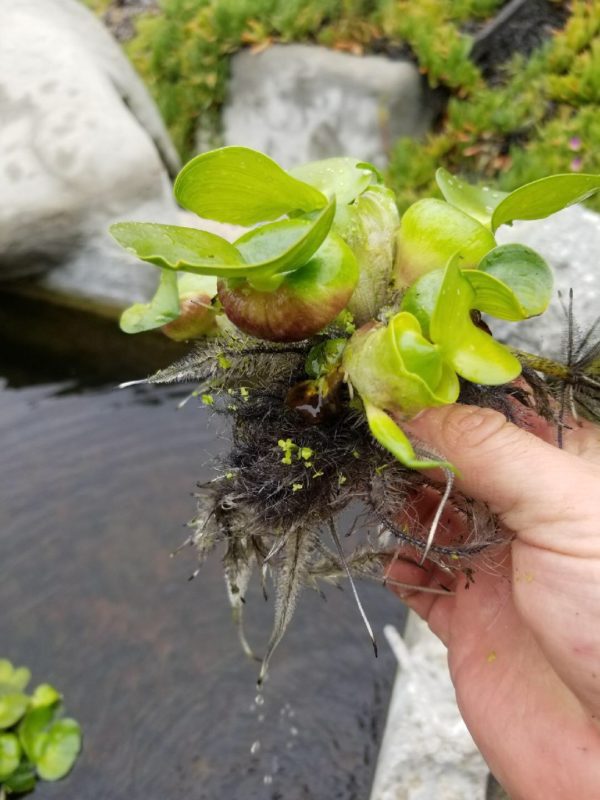 Interesting facts about the water hyacinth
The flowers are used to create a tonic for horses that is rubbed into the horses skin.
Given a good steam or boil, you can eat the plant's flower stalks, buds, and young leaves. Water hyacinth is an ingredient in Taiwanese and Javanese cooking. (if ingested uncooked it will cause sever skin irritation)
The plant is rich in carotene.
Water hyacinth seeds stay viable up to 30 years.
Water hyacinth is used in perfume and cologne products.
Can be used as organic fertilizer and animal feed.
It can be processed to make paper, rope, handbags, even furniture.
Absorbs lead, mercury, and carcinogens when used for remediation purposes.
Because of its amazing biomass it can be used to create fuels!
Here are some tips on caring for and managing water hyacinth
Group plants together with a floating hula hoop or plastic tubing. Water hyacinths prefer to be somewhat crowded and may not bloom if left adrift with too much space.
Trim away spent flowers and dying leaves frequently to keep extra organic matter out of the pond water. Flower spikes bloom for only one day, so you will have to be vigilant about trimming to keep decaying matter out of the pond water.
Remove any excess or unwanted water hyacinth plants about once a week to control their spread. Spread unwanted hyacinth plants over your lawn, allow them to dry out and mow over them with your lawnmower to mulch and destroy them. This is especially important in frost-free areas where water hyacinth will not die off in the winter.
Mix 1 teaspoon of 12-4-8 liquid fertilizer in 1 gallon of water in a bucket or large tray and float the water hyacinths in the mix for a few hours before returning them to the pond. Do this only if the leaves are yellow. Removing the plants to fertilize them protects other plants and fish in your pond.
If your water hyacinths refuse to bloom, plant them in baskets or walled areas of the pond to keep the fish from nibbling on their roots.
Water hyacinth can be grown indoors in aquariums, sun room fountains and other small water features. This will allow you to enjoy the plants without fear of introducing them to local waterways.
if you're local you can come pick up some of our water hyacinth for your water garden, or if you're a regular weekly maintenance client enjoy free delivery on all our water plants!