NATURALLY DYED EASTER EGGS
Ingredients:
1 dozen eggs
1 red beet
1/2 small head of red cabbage
2 tablespoons ground turmeric
3 tablespoons vinegar
Container: saucepans, various containers
COOK20 minsREADY IN2 hrs
Directions:
Hard boil the eggs: put eggs in a saucepan in a single layer, cover by 1/2 to 1-inch cold water and bring to a boil over high heat. Cover, remove from heat and let stand 10 minutes.
While the eggs cook, prepare dyes. RED DYE: shred beet, cover with water and boil for several minutes. Add 1 tablespoon vinegar and set aside. BLUE DYE: shredded red cabbage, cover with water and boil for several minutes. Add 1 tablespoon vinegar and set aside. YELLOW DYE: mix turmeric in 1 cup warm water, stir well and add 1 tablespoon vinegar and set aside.
Divide hard-boiled eggs among the containers of dye. If possible, put dyes in tall narrow containers, like tall glasses, so several eggs can be completely covered at once. Leave eggs in dye until desired shade is reached, then carefully remove, and let dry completely. Colors can be deepened by redying a dry egg in the same color.
To make GREEN, submerge a dry yellow-dyed egg in the cabbage (BLUE) dye. To make PURPLE, submerge a blue-dyed egg in the beet (RED) dye. Make multi-colored by only partly submerging eggs in various dyes.
This is a good project to involve children in since all materials are safe and edible. Be sure, though, to refrigerate eggs (right in the dye bath) if you wish to dye for longer than an hour or two.
TIP: Look for turmeric in the spice section. If fresh beets are not available, use canned–but the color will not be as intense.
WORLDS BEST CINNAMON ROLLS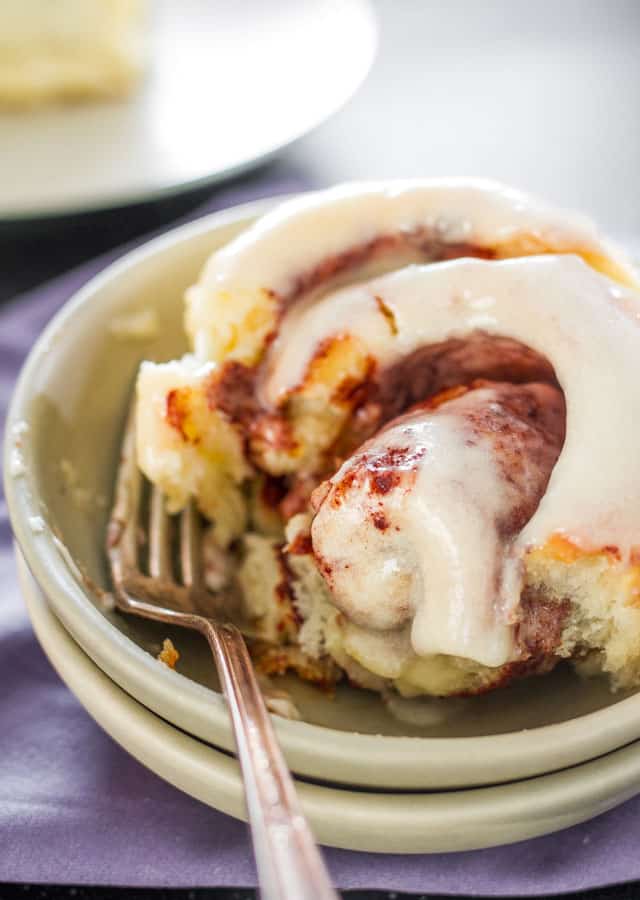 EQUIPMENT:
INGREDIENTS:
Dough:
2 1/4 tsp active dry yeast or instant yeast
1 cup milk lukewarm
1/2 cup granulated sugar
1/3 cup butter unsalted, softened, or margarine
1 tsp salt
2 eggs
4 cups all-purpose flour
Filling:
1 cup brown sugar packed
3 tbsp cinnamon
1/3 cup butter unsalted, softened, or margarine
Cream cheese icing
6 tbsp butter unsalted, softened, or margarine
1 1/2 cups powdered sugar, also known as icing sugar, or confectioner's sugar
1/4 cup cream cheese at room temperature
1/2 tsp vanilla extract
1/8 tsp salt
For the rolls, dissolve the yeast in the warm milk with a tsp of sugar (you can take a tsp out of the 1/2 cup of sugar) in a large bowl. Let it sit for about 5 minutes. If the yeast is good, it will start to froth up.
To the bowl of your mixer, add the sugar, butter or margarine, salt, eggs, and flour and mix until well incorporated.
Pour the milk/yeast mixture over the flour mixture, and using the dough hook, mix well until well incorporated and the dough comes clean from the side of the bowl.
Place the dough into an oiled bowl, cover, and let rise in a warm place for about 1 hour or until the dough has doubled in size.
Combine the brown sugar and cinnamon in a bowl.
Grease a 9×13 inch baking dish with cooking spray or butter.
Roll the dough out on a lightly floured surface until it is approximately 16 inches long by 12 inches wide. It should be approximately 1/4 inch in thickness.
Spread the 1/3 cup of butter evenly over the dough, then sprinkle with the sugar evenly over the surface of the dough.
Working carefully, from the long edge, roll the dough down to the bottom edge.
Cut the dough into 1 1/2 inch slices, and place in a lightly greased baking pan. You can also use floss to cut into slices, as seen in the video. Place the cut rolls in the prepared pan. Cover with a clean kitchen towel or plastic wrap and let them rise for another 30 minutes, or until doubled in size.
Preheat oven to 350 degrees.
Place the baking pan in the oven and bake for 20 minutes or until golden brown. Cooking time can vary greatly!
While the rolls are baking, make the icing by mixing all the icing ingredients and beat well with an electric mixer until fluffy and smooth.
When the rolls are done, spread generously with icing.
Cottontail Martini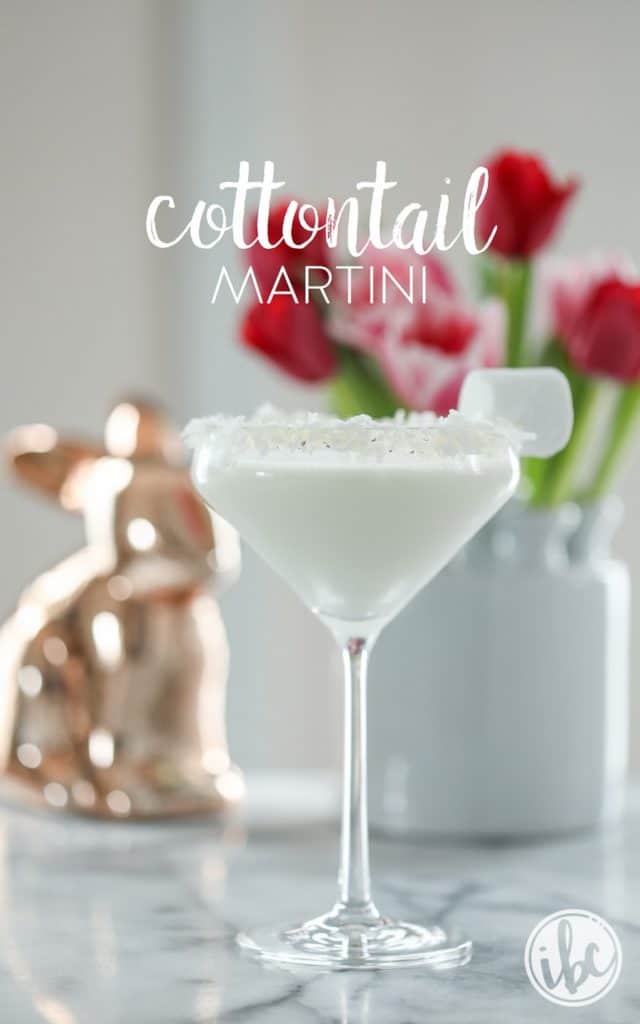 Here's what you will need: 1.5 ounces whipped vodka (or vanilla vodka)1.5 ounces coconut rum2 ounces half and half1/2 ounce cream of coconutSplash of pineapple juice honey, chopped sweetened coconut, and marshmallow to garnish. Begin with two shallow dishes. To one, add a teaspoon of honey. To the other, add the sweetened coconut. (I recommend giving the coconut a rough chop before using it.) Rim the edge of the martini glass first in the honey and then in the coconut. Set aside. In a cocktail shaker filled with ice, combine the whipped vodka, coconut rum, half and half, cream of coconut, and pineapple juice. Shake vigorously, then strain into your prepared martini glass. Using a knife, make a small slit in a marshmallow. Slip the marshmallow on the side of the martini glass. Sip and enjoy!