Retaining walls are structural marvels in landscape design and construction. They are both functional and visually pleasing. By weaving together form and function, retaining walls hold and support soil by adding rigidity to two different soil levels. This is quite applicable to Southern California, where there are natural hills, slopes, and a high potential for transforming terrains to make great landscaping projects.
These often overlooked but vital examples of landscape design and engineering are not only a shield against erosion, but also create wonderful and safe outdoor spaces. Retaining walls add character to any landscape construction project while preventing deterioration of designs that would otherwise eventually erode if no walls were constructed.
Importance of Retaining Walls
Retaining walls play a significant role in places like La Canada, Pasadena, Altadena, La Crescenta, Santa Clarita, Arcadia, South Pasadena, and San Marino due to their distinct geographical features and weather conditions. Hills and slopes are common in these areas, which makes it difficult to landscape due to possible erosion and instability. As such, retaining walls are needed to effectively keep the soil in place for a long time.
During heavy rainfall and occasional earthquakes, retaining walls serve as vital barriers. Providing an additional level of protection for both buildings and natural surroundings. However, their significance extends beyond mere safeguarding. These exceptional features of landscape engineering enhance the overall visual of the landscape by offering possibilities to integrate hardscape elements like rugged rocks, large boulders, and ornamental decorations. Moreover, they create space for softscapes to thrive with vibrant flowering plants, lush shrubs, and graceful trees.
Also, retaining walls create areas that can be transformed into seating areas, attractive patios, elegant terraces, smooth driveways, and vibrant gardens. Aside from extending living spaces, retaining walls maintain landscape grading that effectively redirects excess water away from structures, preventing flooding and water damage.
Types of Retaining Walls
When it comes to creating retaining walls, careful consideration of what materials should be used is a must. In California landscape construction, the popular materials for retaining walls are concrete blocks, natural stone, and timber. Each material possesses distinct strengths and characteristics.
Concrete blocks offer durability and versatility. They can be shaped into all kinds of cool designs and structures, providing various creative options for landscape design. Natural stone, on the other hand, complements the California environment. It creates a timeless and peaceful vibe that promotes being one with nature. Meanwhile, timber gives a warm and rustic charm that makes the landscape look more natural. Aside from the materials used, retaining walls also come in various types depending on their features. When choosing a retaining wall, homeowners should consider the height of the wall, the condition of the soil, and the visual impact of the wall on the landscape.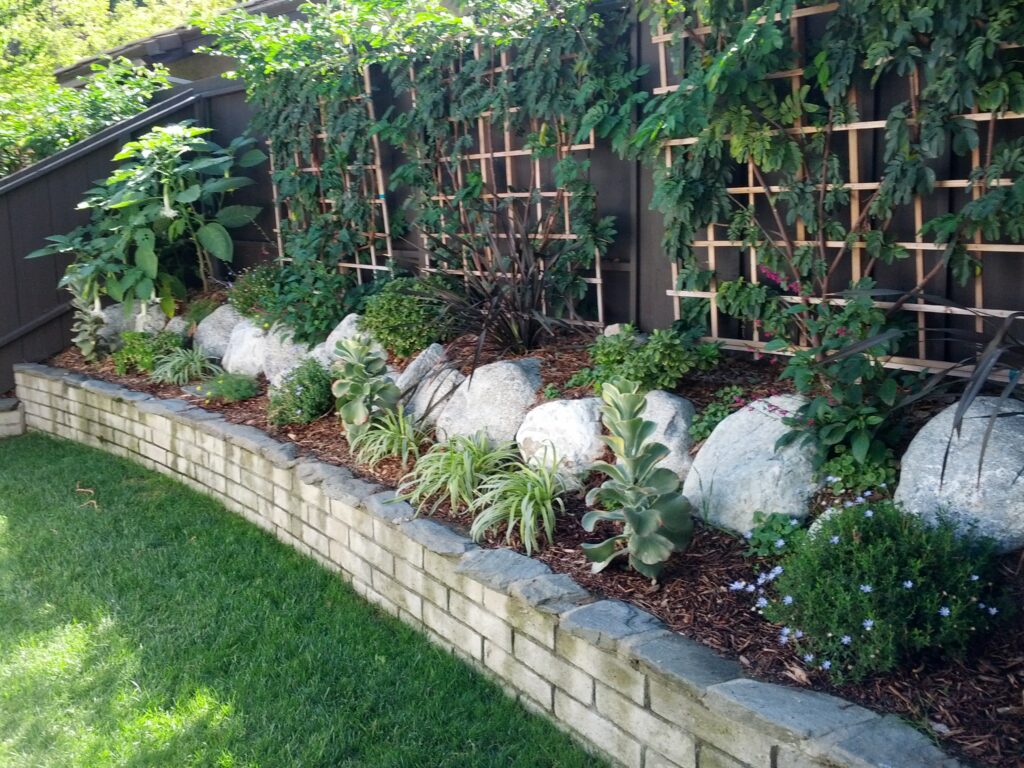 Construction and Maintenance
Constructing retaining walls involves a lot of careful thinking and planning. Professionals study the topography and soil conditions of the area to make sure the wall is designed and reinforced correctly. Following local regulations and codes is crucial to ensure safety and compliance.
Each city or county in Southern California has its own sets of building codes and permit requirements for constructing retaining walls. Building codes may specify parameters such as maximum height, setback distances from property lines and construction materials. On the other hand, permit requirements may involve the submission of detailed plans, wall dimensions, cross-sections, and engineering calculations for structural integrity. Apart from local regulations, you should also consider special rules or covenants of the neighborhood association in regards to the construction of retaining walls.
During the construction phase, proper drainage systems should be put in place to manage water flow and prevent pressure buildup. Moreover, earthquake-resistant techniques and materials are necessary in some high-risk regions like Southern California to enhance the walls' resilience.
Building the walls is just the beginning. Retaining walls require regular maintenance. Inspections, cleaning, erosion control, and timely repairs are all part of the job to keep the walls strong and durable.
Conclusion
Retaining walls in Southern California are not only functional structures but also artistic additions that contribute to the stunning landscapes. They provide stability, prevent erosion, and create usable spaces while adding aesthetic value. Understanding the importance, materials used, benefits, and construction considerations specific to Southern California enables property owners to make informed decisions when incorporating retaining walls into their landscapes, ensuring both beauty and resilience.
So-Cal Ponds Inc. is one of the leading licensed landscape design and construction companies in California. With highly trained and experienced landscape designers, So-Cal Ponds Inc offers a wide variety of services on design, construction and maintenance of retaining walls and garden walls. Aside from retaining walls, So-Cal Ponds Inc. also offers landscape design, landscape construction, pond construction and maintenance, excavation, grading, and more. Set a consultation over the phone for free or request a more helpful and informative on-site consultation.